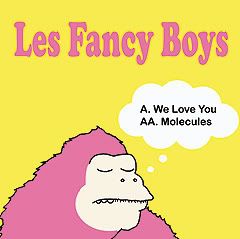 The Fancy Boys - We Love You / Molecules 7"

ex-baguette swingin' frenchmen
The Fancy Boys
become first Australian band to have returned alive from underground tour of Hong Kong & China (Jan 2008) playing Guanghzou, Changsha, Wuhan, Nanjing, Shanghai, and Beijing!
Side A. / We Love You
Side B. / Molecules
Still some 45s available, contact the band via Myspace.